Without much knowledge, construction around grounds would appear to have had a positive effect on our community. Older buildings are refurnished providing students with adequate locations to learn and study and classrooms are updated with the latest technology. Because of the aesthetic improvements, consideration of other, negative elements are overlooked. Construction adds to noise pollution on grounds, disrupts the logical flow of walking paths on grounds, and perhaps most importantly affects our trees on grounds.
According to the University's Landscape Superintendent Richard Hopkins, construction is currently the largest threat to the University's trees. He says, "New buildings need new water supplies, electrical data, steam, chilled water, and sewer." These are all underground elements that go into the planning and construction of a new building. Yet, with all the many buildings existing on grounds, there is a decreasing amount of space for new construction and utility installations. As Hopkins states, the declining space is "pushing these activities closer to our older trees putting them at higher risk for damage." During construction we witness the replacement and removal of trees on ground, each of which has its own set of procedures and systems that are followed by the involved University Landscape Architects, Landscape Superintendent, Arborists, and other hired Landscape Architects on the job.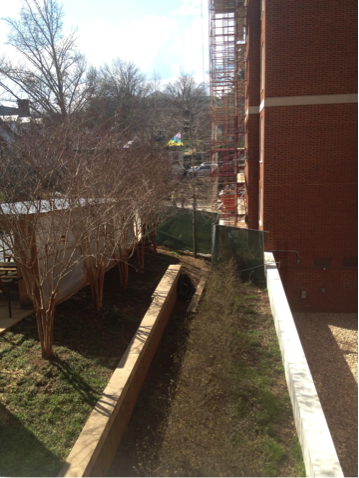 Encroaching on the natural space once belonging to the trees calls leads to the replacement program the University has in place as part of the construction of new facilities. The replacement program involves the installation of new trees as part of construction or landscape redesign on grounds. Depending on the budget and year-to-year construction, this replacement program typically installs 100 or more trees per year, this number is separate from the usual 100 to 250 trees that are replaced year to year. During the replacement process, several factors are discussed: the number of trees lost in the year before or previous years, the budget, and scheduling factors.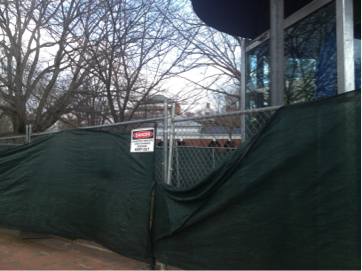 Special procedures are also taken with the maintenance and removal of trees on grounds. The two certified Arborists on grounds preform the routine maintenance of the trees as well as the removal of the trees. Routine maintenance includes leveling of limbs, corrective pruning, fertilization, inspection, and approval for removing trees. Trees are typically removed on grounds for one of two reasons. Either the tree is presenting a hazard to the community in some way or there is a special request for removal (typically construction). The University's Arboretum and Landscape Committee reviews all requests for removal of trees on grounds. They look at plans for removal of hazardous trees, which are typically effective immediately, as well as new landscape installation plans for all construction projects. This process is fairly systematic.
As we continue expanding buildings on grounds, we must move past the aesthetics of each building and seriously consider the impact of construction on grounds on our University's trees. To check out more of Richard Hopkins current ideas and projects please visit: https://news.virginia.edu/content/landscapers-thin-out-university-s-tree-population.
Post by Jackie Michnoff, Second-Year, McIntire School of Commerce