The Gardens at UVa, although beautiful and useful for gatherings, serve a purpose that many do not appreciate. Pavilion II hosts a plethora of aesthetically pleasing plants and trees, that are also edible, nutritious, and delicious. Not many know, but Pavilion II was originally intended to be practical, not ornamental. The large pecan tree, planted by late Dean Ivy F. Lewis, contributes shade and a nice place to read, but also nuts that are tasty and healthy. Interestingly, a pecan is technically not a nut; it is a "drupe," which is a fruit with a single pit. Pecans can be eaten raw or cooked. Pick one from a Garden tree and it can make a healthy snack right then and there. Pecan trees are the only major nut trees that originate from North America. It is also known that Thomas Jefferson was a lover of pecan trees, as he planted them in his own personal garden in 1779.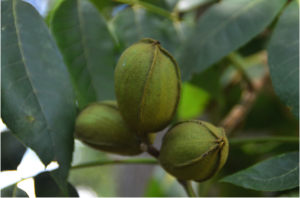 Pecans growing in their husks. Photo from: gardeningknowhow.com
Blueberry and grape vines grow on a terrace dissecting through the middle of the garden, which aims to serve as a reminder of the utilitarian purpose of these gardens as opposed to just their aesthetic purpose ("The Gardens"). Grapes are actually berries and are a very popular and delicious snack. The grape vine needs very little maintenance and will last for 50 to 100 years, serving Garden goers for a lifetime. Similarly, blueberries average about a 60-year lifespan, but ideally can live forever if treated and pruned properly. Together the two create a beautiful, and edible, sight with the clusters of purple and dark blue fruit hanging from the vines. Grapes and blueberries can both be picked and eaten on the spot, so enjoy!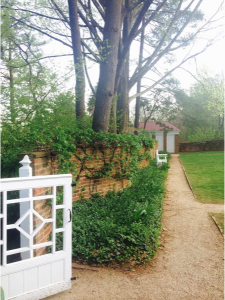 Vines along a serpentine wall in the Garden. Photo by: Caroline Kugler
The Garden is also home to four heirloom varieties of plums. Like pecans, plums are also considered to be drupes. Arguably the most nutritious edible plant in the Garden, the plum is a large provider of phenols, a type of antioxidant, and vitamin C, which is proven to increase the absorption of iron in the body. Plums are a great source of fiber, necessary for every diet. Plums can be eaten fresh or dried and made into prunes.
Along the serpentine walls of the Garden are crabapple trees. Although crabapple trees are a variety of apple trees, the fruit itself is very different. Crabapples are sharp and bitter and do not provide the same taste sensation as a traditional apple. Like apples, the seeds of a crabapple contain a form of cyanide, a toxin. Even though this toxin is present, it is only in the seeds and needs to be ingested in large quantities to take effect. Although not enjoyed fresh, crabapples can be used to make a delicious jam and still add value to the very useful Garden.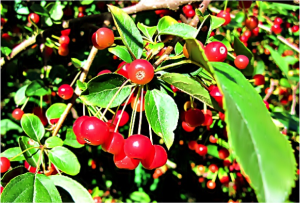 Crabapples. Photo from: allyeargarden.com
Daylilies, the beautiful orange flowers on the lower bank of the Garden, are actually edible as well. In fact, the entire plant is edible. The young shoots can be eaten when they are under 5 inches tall and they taste like onion when fried. The flower buds are a source of iron and the blossoms can be eaten as well, cooked or uncooked. The roots can also be harvested when they are white and new and can be eaten raw or cooked. The dried plant is a good source of vitamin A. Many do not think to eat plants, it is not common in the modern era, however, eating daylilies dates back to the 1500s with the Europeans and is a common practice in many cultures, including a famous Portuguese dish made with daylilies.
How can we promote the education and use of edible trees and plants on Grounds? There should be an initiative to build an On-Grounds, edible garden. It can be sustained by students or through a company called Cville Foodscapes that builds low-maintenance, edible gardens. By creating an edible garden open to all University students, students will unknowingly learn about nature and contribute to a sustainable university and world.
When it comes to planning, it is important to think about the impact that the trees and plants you choose will have on the visitors to your site. A tree is beautiful and serves many purposes, (shade, a seat, a climbing apparatus) but if it can also provide fruit, which is an added bonus. Edible plants and trees add to the sustainability of areas and encourage citizens to become more connected to and educated about nature.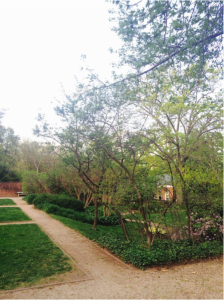 A view of Pavilion II. Photo by: Caroline Kugler
 With our knowledge, we must encourage students to look deeper at the nature around them, to look past the aesthetics to the nutritional value that the world around them can provide.
To learn more about where to find edible plants and trees on Grounds, view our team virtual map!
Post by Caroline Kugler