With the snow melting away and spring having arrived at the University of Virginia a couple weeks ago, it is becoming easier and easier to see the beautiful nature that surrounds us on Grounds. Whether it's the blossoming trees or the playful squirrels, it is clear that our school is abundant with all forms of nature. However, one element that is sorely missing and much less visible is the presence of fungi. Throughout the semester, much of the fungi that our group has found and observed seem to be tucked away in discrete locations and away from the everyday view of the student population.
During the course of this semester, our group has written about the clear advantages that fungi can provide not only to the environment but also to our everyday lives. These organisms play a crucial role in breaking down rock and decomposing plant material. Fungi such as mycorrhizae enable the beautiful plants and trees that we see as we walk to classes or relax on the Lawn to absorb nutrients and grow. As decomposers, oyster mushrooms have been implemented in cleaning up sites contaminated by oil spills. Ingesting them also yields benefits, as regularly consuming mushrooms has been proven to help in managing weight, increasing vitamin D levels, and enhancing the immune system.
If fungi contribute so much to our society and environment, why are they not prominently featured in public places like cities, parks, and universities? The most common reason is aesthetics. Many people assume that fungi aren't the most attractive and "crowd-pleasing" to look at, and therefore they are generally excluded from urban design. However, this may not be the case for long. Cities are beginning to understand the benefits and beauty of fungi and are incorporating them into the design of their cities. One such example is the Landscape Institution's  "A High Line for London" competition, which the company Fletcher Priest Architects won with its proposed development of an underground mushroom park that would line the Mail Rail tunnel under Oxford Street in London, as seen below. Such efforts would ensure that in the future, fungi are able to get the credit they deserve and become a more visible part of our everyday society.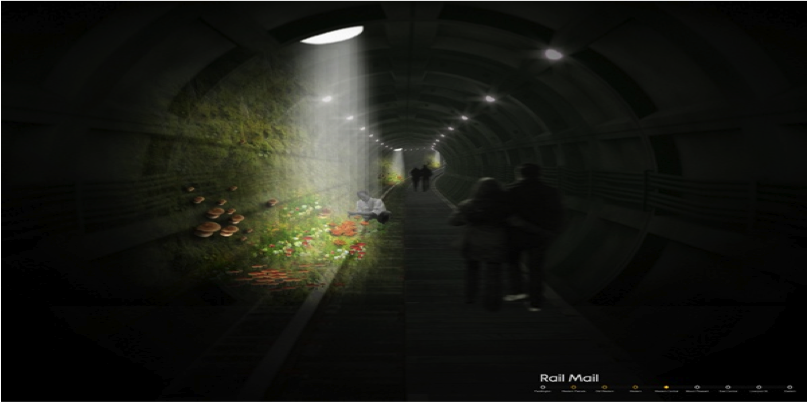 Post by Anthony La, Fourth-Year, McIntire School of Commerce