With the skyline of Charlottesville and the Blue Ridge Mountains beyond, I forget that I'm on the rooftop of the McIntire School of Commerce. I can't believe I've never been here before. Nestled on the roof of the Rouss and Robertson Hall, there is a garden. This garden surrounds a courtyard, a space to study, eat, socialize, and relax. Nelson Byrd Woltz, the architect, designed the space as "not just a garden but an ecologically restorative machine with intended longevity. It takes inspiration from the University Grounds and pavilion gardens. Relying on native plants and local building materials, the courtyard space is also designed to enhance teaching, learning, and social interaction" (http://www.nbwla.com/projects/garden).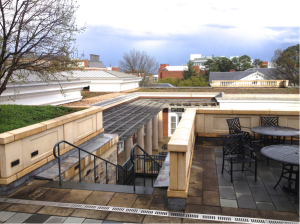 The green rooftop is extensive, meaning it's composed of a shallow substrate, is relatively light, and is low cost and low maintenance. The vegetation found here are trays of sedum, which require little irrigation. It's the University's first environmentally "green" roof. Its mission has been to reduce the temperature and heat load on the roof beneath the plant trays of sedum. Furthermore, the green rooftop protects the roof membrane and increases its longevity by shielding it from the damaging effects of the sun's ultraviolet rays.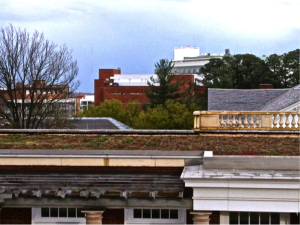 One improvement to consider would be to better integrate the garden and courtyard. Currently, they feel like separate entities. They rooftop garden feels shielded from the public. The garden is only accessible to Facilities Management. A student can only admire it from the courtyard. I wish that the courtyard spanned throughout the garden to provide a more harmonious sensation. People would be able to interact more with the nature, rather than just observing it from a close proximity. Having more people exposed to a rooftop garden, would increase the public's awareness of the importance of them.
Sources:
http://www2.commerce.virginia.edu/building/facts-and-figures/index.asp
http://www.nbwla.com/projects/garden
Post by Cody Simms