Ducks
I
From troubles of the world I turn to ducks,
Beautiful comical things
Sleeping or curled
Their heads beneath white wings
By water cool,
Or finding curious things
To eat in various mucks
Beneath the pool,
Tails uppermost, or waddling
Sailor-like on the shores
Of ponds, or paddling
– Left! Right! – with fanlike feet
Which are for steady oars
When they (white galleys) float
Each bird a boat
Rippling at will the sweet
Wide waterway …
When night is fallen you creep
Upstairs, but drakes and dillies
Nest with pale water-stars.
Moonbeams and shadow bars,
And water-lilies:
Fearful too much to sleep
Since they've no locks
To click against the teeth
Of weasel and fox.
And warm beneath
Are eggs of cloudy green
Whence hungry rats and lean
Would stealthily suck
New life, but for the mien
The hold ferocious mien Photo Credit: Annette Cole
Of the mother-duck.
– Frederick William Harvey
(Part II & III of the poem located at: http://www.poemhunter.com/poem/ducks/)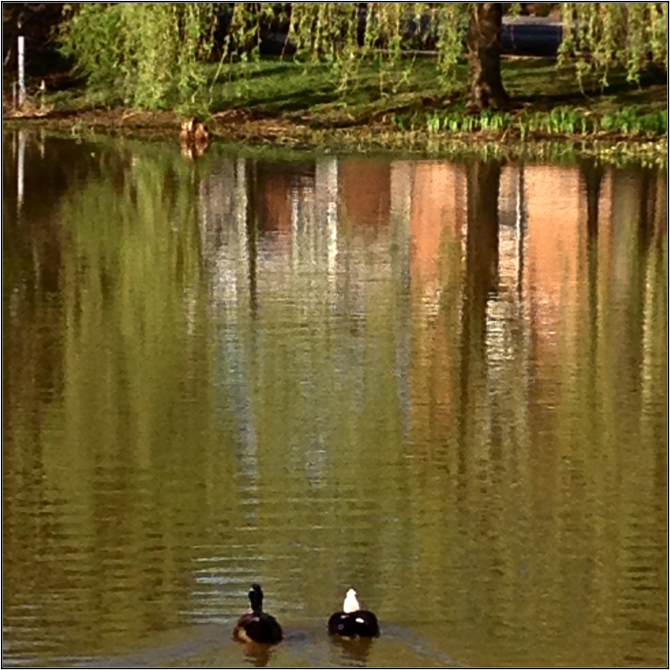 The "Duck":
Another trip to Dell Pond has led to the discovery of yet another species of birds on grounds—the duck! "Duck" is the common name for all birds, over 140 species, in the Anatidae Family. They are found on every continent except for Antarctica, and are physically adapted to swim, dive, and float in water.
Trivia Question (1): What species of bird, which has been previously posted about on this BioGrounds Blog, is also part of the Anatidae Family? (Answer at the end of blog post!)
Ducks are omnivorous species that are constantly foraging and looking for opportunities to feed off fish, grass, insects, amphibians, seeds, plants, fruits, etc. The diet of a duck varies based on the species, season, and habitat. Some species of duck are more likely to feed off fish and amphibians, such as diving ducks that live in marsh habitats, while some species are more likely to live in a grassy landscape and feed off seeds and grain.
Trivia Question (2): Is bread, which is commonly fed to ducks by people, good or bad for their diet?
The "Quack":
Male ducks never "quack", only females do. "Quack" is the general term given to ducks for a range of sounds including: "squeaks, grunts, groans, chirps, whistles, brays and growls". 1
These noises are used as a sign for presence, mood, mating, warning, and various other communications to other birds.
Click here to listen to common Mallard (female) duck calls: http://www.allaboutbirds.org/guide/SOUND/SPECIES/81A.mp3
Wild vs. Domestic (Hybrids):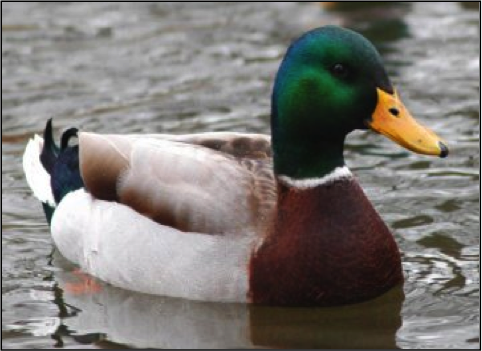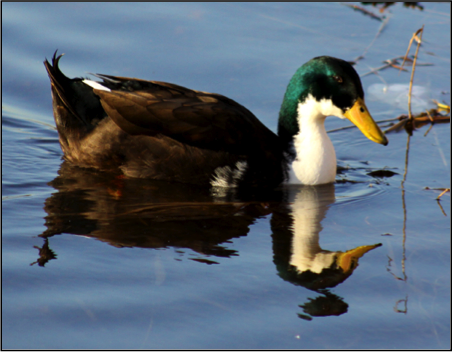 There are wild ducks, and then there are domestic ducks—and over forty breeds of them. More likely then not, if you find a duck around a pond or in a park—it's a hybrid. The two species of duck that have been domesticated are the Mallard (Anas platyrhynchos) and the Muscovy (Cairina Moschata). The pictures above show the differences between the Wild Mallard (left) and a Domestic Mallard (right). The two birds carry a clear resemblance, but there are many breeds of hybrid ducks that display varying physical attributes characteristic to their wild ancestors. A few domestic breeds include the Duclair, the Saxony, and the most common barnyard duck—the Pekin.
The Ducks at Dell Pond: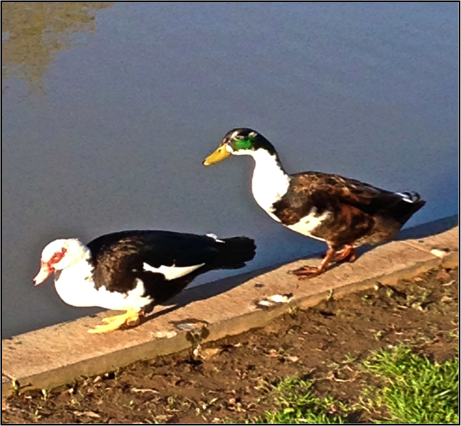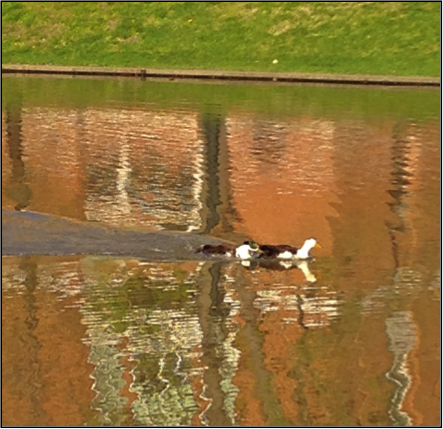 As I have passed by the Dell Pond this semester, I have noticed both the Muscovy and Mallard ducks in their domesticated form. Originally, I only saw the two hybrids in the above left picture. The duck on the left clearly reflects Muscovy with red surrounding her eyes, while the green patch on the right duck clearly resembles a male Mallard. Because crossbreeding between the two species is possible—is there a romance blooming at the Dell Pond? Breeding season for most ducks is generally late winter, spring, or early summer. While ducks are mating and breeding, most species are monogamous. The interaction between the two birds, definitely suggests that a seasonal relationship is a strong possibility!
The last visit I made, I noticed there was an addition I hadn't noticed before—another duck of brownish-white color. I witnessed an altercation with the female hybrid and this third duck. The third duck seemed to be trying to keep the female underwater using force. The male hybrid, came to the hybrid female's rescue pecking at the third duck and chasing it across the pond (as seen in the above right picture). Which left me leaving the Dell Pond with the question, the third duck—friend or foe?
I conclude by encouraging you, students and readers, to take the time to observe and decide for yourself!
Quack Fact:
It is a common myth that a duck's quack doesn't echo. So common, in fact, that it was "busted" on the Discovery Channel show "Mythbusters".
Trivia Answers:
Trivia Answer (1): The Canadian Goose!
Trivia Answer (2): Bad—bread lacks nutritional value towards a duck's diet.
References:
Post by Annette Cole, Fourth-Year, Urban and Environmental Planning