There is actually a remarkable biophilic scene in the Observatory Hill area that mostly consists of taller, newer dining halls and dorms. The area can be viewed as a miniature city given that it is made up of 10 buildings, some five or six stories high. Given this mini-city of New Dorms (Alderman) and Ohill, there is still nature seen between each building. There consists a large open field of grass lined with small trees directly next to Ohill where students can be seen throwing the football or Frisbee, tanning, or even just studying. It is a great spot to get your daily dose of nature and fresh air. In addition to the field, there are smaller lawn areas between sidewalks interconnecting the dorms. Even the simple sight of greenery can add such a powerful effect on viewing nature when looking at these big, prominent buildings. You can see flowers and bushes in bloom on the sides of each of the dorms, not to mention a few trees.
However, this blog post focuses on some of the spectacular long-distance views you may be lucky enough to see if you are in the area.
This first photo was taken during sunrise (around 7am) from the top floor of the Lile-Maupin staircase overlooking Ohill Dining Hall with Gilmer Hall being the building in the bottom right. The truly amazing sight, as you can tell, is the sunrise over the Blue Ridge Mountains in the distance. If you manage to get that view, you're off to a great start of the day! Also, during the day, you can usually see the top of the Rotunda.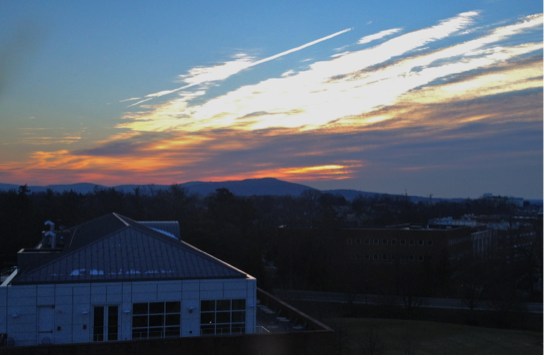 The next two photos were taken during sunset (around 6:30pm) between the dorms Tuttle-Dunnington and Lile-Maupin. It's as easy as walking in between them towards Watson-Webb and Balz-Dobie. You have to get lucky with the sun and clouds, though!
Map of the Ohill/New Dorm Area with sunrise/sunset views marked in black, the area in which the photos were taken in red, and the grass field in green: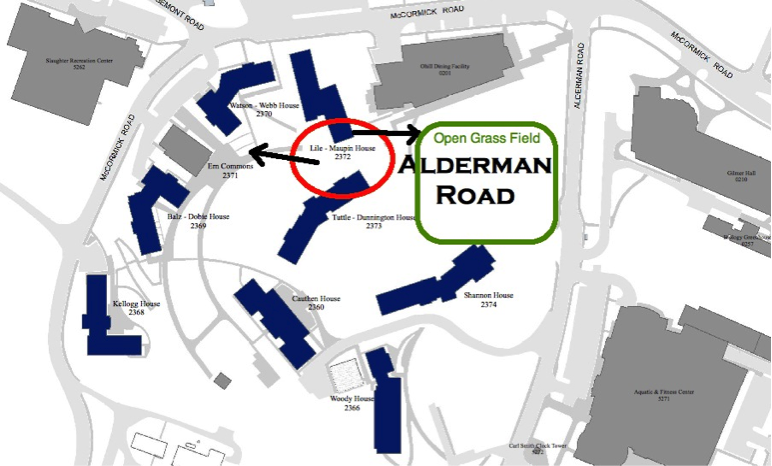 You may be thinking to yourself, "Well you can see pretty sunrises and sunsets almost anywhere." However, it's the idea of the combination of the completely natural sight of the sky overtop one of the most city-like areas on Grounds at UVa that makes this area stand out. The Ohill/New Dorm area is truly a miniature biophilic city of it's own. Sky views play a major role in feeling nature, and the company, Sky Factory, reveals the importance of sky views by creating virtual views for inside city buildings.  They play a role in making a city a biophilic city.
Post by Cole Oldenburg, First-Year, Engineering-Undeclared