Now that we've established the composition and components of soil, and described a brief history of soil in Virginia, we can expand on what properties in soil promote growth. We can do this while examining different soils from around central grounds. Three areas we will highlight are Observatory Hill Field (Figure 2), Fayerweather Hall (Figure 3), and the Lawn (Figure 4).
Organic matter
Organic matter broadly alludes to the assortment of dead plant and animal material in the soil. This includes everything from ground-up leaves to compost. Organic matter is essential to soil for its wide range of benefits that it provides. These benefits include being able to "supply nutrients for plants by providing surfaces where nutrients can be held in reserve in the soil, facilitate better drainage by loosening soil structure, store water in soil, help increase air drainage, and increase the activity and numbers of soil microorganisms" (organic matter). The optimal level for organic matter in soil is about 5 to 6 percent. From Figure 1, we can see that most places meet this level, or come close to it. Interestingly, Observatory Hill Field has the lowest level or organic matter listed, measured at just 1.33% (Refer to Figure 1 for all measurements). Desert areas have around 1% so its possible that this soil sample was taken when they were reconstructing the field, and did not have any grass there at the time. On the other hand, Fayerweather Hall, with 7.83%, had the highest recorded percent of organic matter. While this may initially seem like a very good situation for growing plants, it has been ascertained that too much organic matter can actually be detrimental. It can heighten the levels of phosphorus to the point where it becomes poisonous for plants, and can also "over stimulate microorganisms, which then consume so much nitrogen and other plant nutrients that soil fertility temporarily declines" (organic matter). Between the two extremes, is the lawn, with all flats retaining an organic matter percentage of 4.65-5.59%. Since the Lawn is iconic to UVa, there may be more of an effort put into regulating this area, which would explain the good levels of organic matter. However, overall, the majority of sites around grounds have recorded mainly optimal percentages.
pH
Another key determinant of soil fertility is pH, which is important because it allows plants to easily dissolve nutrients in the soil. The pH scale goes from 0 to 14, with 7 being perfectly neutral. Anything below 7 is increasingly acid, while everything above 7 is increasingly alkaline. Like organic matter, there are damaging effects if the pH is too low or too high. For example, plants nutrients rapidly leach out of soils, bacterial activity "that releases nitrogen from organic matter and certain fertilizers" does not take place, and the overall texture of the soil changes to make it difficult to cultivate (Perry). Specifically, when the pH falls below 6, nitrogen, phosphorus, and potassium are leached more rapidly. When it is above 7.5, iron, manganese, and phosphorus are not easily absorbed (Understanding PH). Therefore, a good range for pH is about 6-7.5. Every plot recorded on grounds fell within this category, with 6 being the lowest pH and 7.2 being the highest. Observatory Hill Field had a pH of 6.8, Fayerweather was recorded as 6.1, and the Lawn flats ranged between 6.2 and 6.6. These pH levels are consistent to Virginia's natural levels based on the amount of rainfall and vegetation.
Although these are just two predictors, they can adequately show the health and growing potential for the soils around grounds. If you wish to further examine other predictors, they can be found in the Turfgrass soil summary table in Figure 1.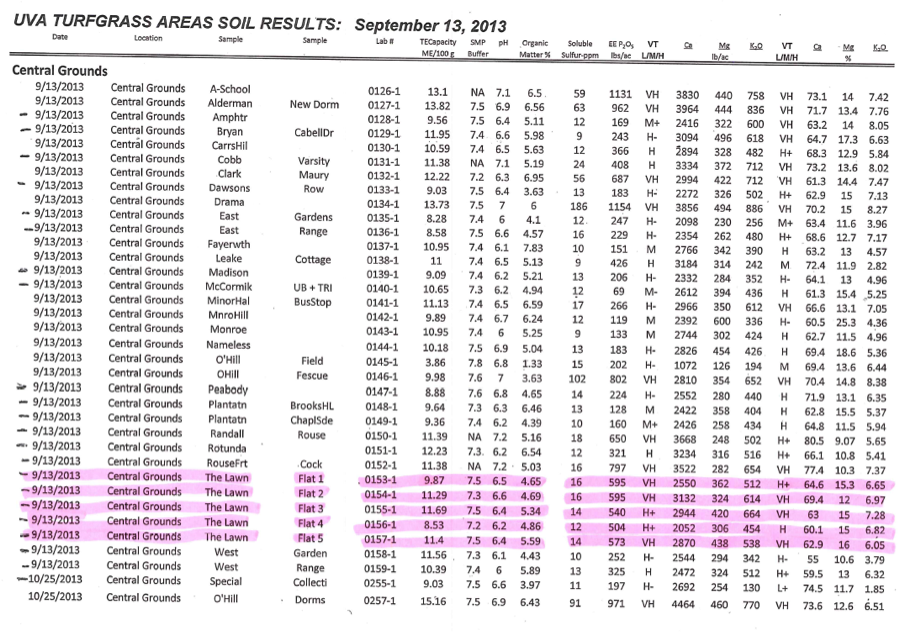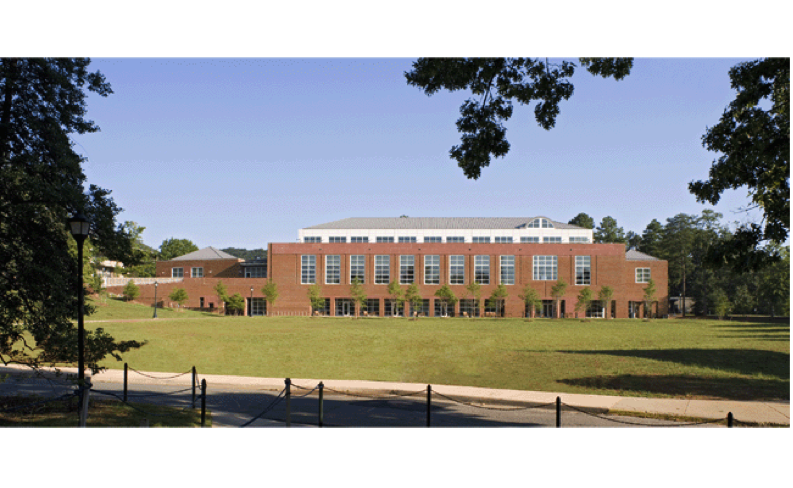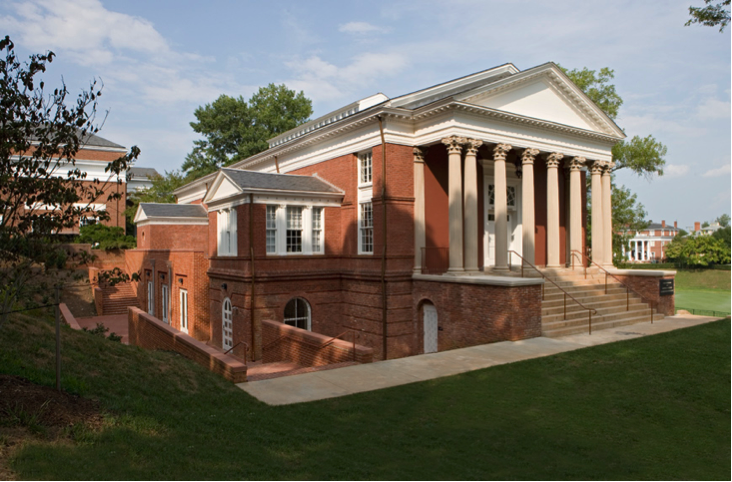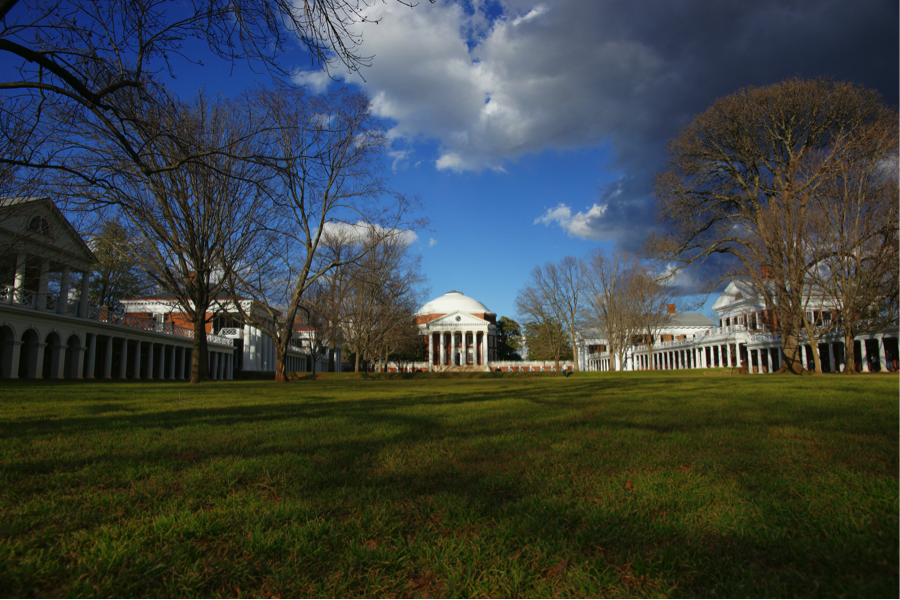 Works Cited:
Websites:
"Organic Matter." Organic Gardening. Web. 27 April. 2014. http://www.organicgardening.com/learn-and-grow/organic-matter
Perry, Leonard. "Department of Plant and Soil Science." PH for the Garden. Web. 22 April. 2014. http://pss.uvm.edu/ppp/pubs/oh34.htm
"Understanding PH." What Is Soil PH and What Does It Mean?: Organic Gardening. Web. 22 April. 2014. http://www.organicgardening.com/learn-and-grow/understanding-ph
Images:
Fayweather Hall. 2006. Charlottesville. Office Architect UVA. Web. 22 Apr. 2014. http://www.officearchitect.virginia.edu/GroundsPlanWebsite/GPNEW/CaseStudies/GPCaseStudiesWilsdorfHall.html
Observatory Hill Dining Hall. 2006. Charlottesville. SaylorGregg Architects. Web. 25 Apr. 2014. http://www.saylorgregg.com/projects/uva-ohill.htm
The Lawn. 2010. Charlottesville. Web. 22 Apr. 2014. http://en.wikipedia.org/wiki/The_Lawn
UVA Turfgrass areas soil results. Charlottesville. 9/13/2013. April 19. 2014.
Post by Merrill Hermann, First-Year, Undecided