"I rank [botany] with the most valuable sciences… it's subjects as… delicious varieties for our tables, refreshments from our orchards, the adornments of our flowerborders, shade and perfume of our groves…"
Thomas Jefferson, 1814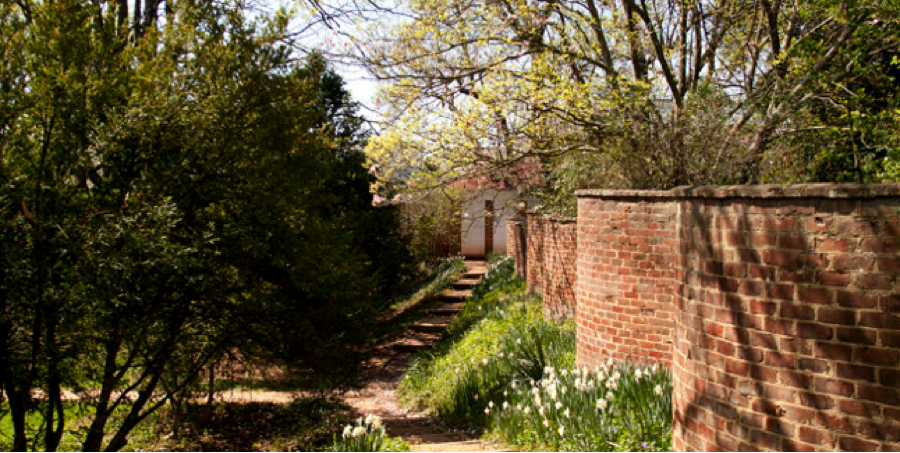 Jefferson's love of all things gardening is evident in his writings, his illustrations, his influence over the grounds of the University of Virginia, and particularly his own home. However, Jefferson did actually not design the pavilion or hotel gardens – defining spaces at UVA for their serpentine walls and distinctly unique spaces – at all. Rather, upon the completion of the walls in 1824, the design, initial planting, and maintenance of the gardens were left in the care of the hotel and pavilion residences. This resulted in a diverse and unconnected series of spaces, and as the residents frequently changed, so did the gardens. After some time, buildings, roads, and walls were added, but did not necessarily share characteristics or adhere to Jefferson's original plan.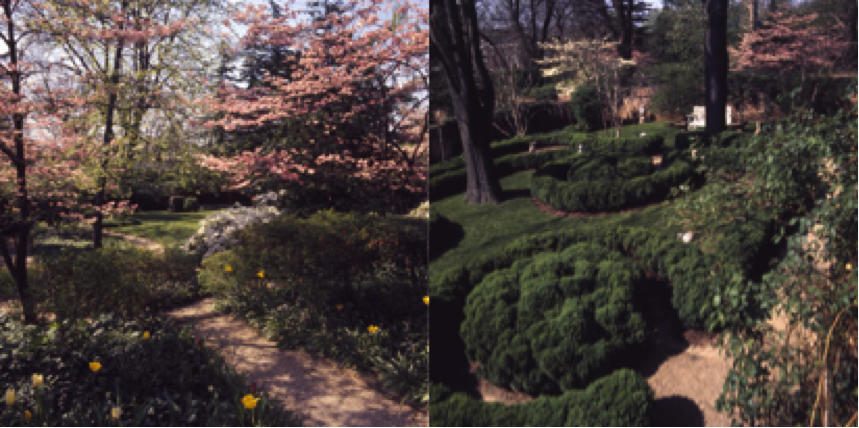 In 1948, a renewed interest was sparked for the Pavilion Gardens when the Garden Club of Virginia offered to restore and unify them in a way that was consistent with Jefferson's designs. Alden Hopkins, the landscape architect for Colonial Williamsburg, began the process in the West Gardens, drawing plans and overseeing initial restoration. After his death, however, Donald H. Parker stepped into his shoes and completed what needed to be done in the East Gardens. As a result of two separate designers, the series of gardens have distinct style differences, yet they each draw inspiration from the gardens at Monticello and Jefferson's writings.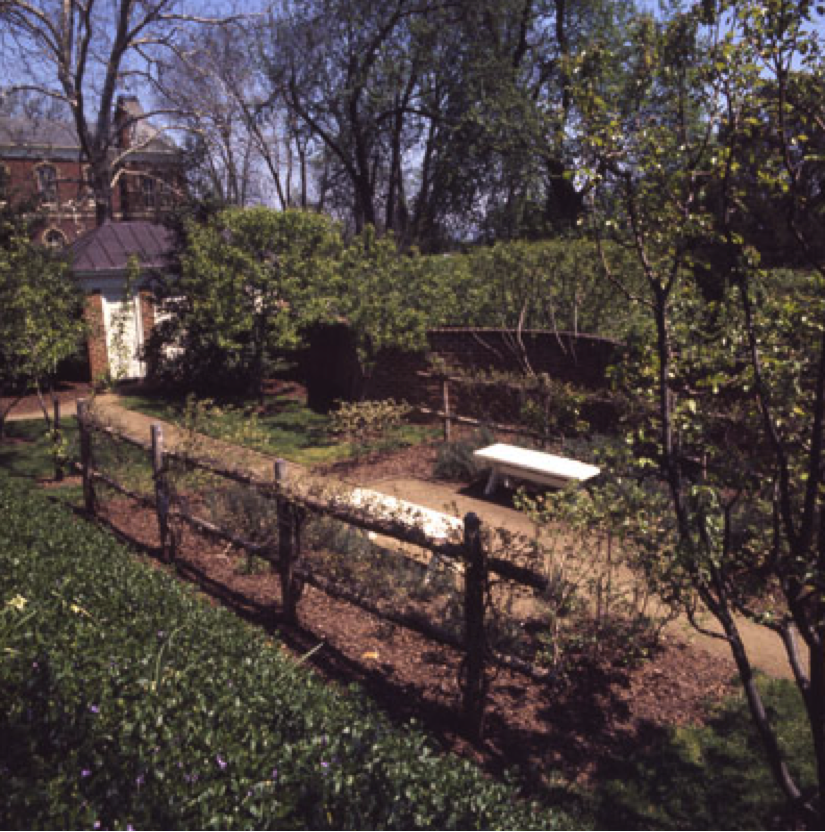 The plants chosen for planting were drawn from a collection that would have been known to Jefferson, reflecting his vast knowledge and love of botany. Jefferson had a love of both native Virginian and exotic plants, and said, "the greatest service which can be rendered by any country is to add a useful plant to its culture." Design elements in the gardens reflect international styles, and his legacy of extensive knowledge encouraged the great variety of plants. His interest in living self-sufficiently also inspired the designers and gardeners to include a number of edible trees and plants. The gardens' main function remains ornamental, however, and the edibles do not generate the same yield as they would be if they were pruned for production.
Given better information about the pleasant spaces and natural foods available in the Pavilion Gardens, it is our hope that they can be better appreciated and utilized by the student body. That said, moderation is key, and the importance of maintaining a vibrant, healthy appearance in the gardens should be stressed.
Melissa Reese's 2008 report entitled Edible Lawn: An Inventory of the Edible Landscape at the University of Virginia on the Lawn Pavilion Gardens is a tremendous resource for anyone looking to learn more about edibles in the Pavilion Gardens. Beautifully arranged, with a simple, effective layout, the report lists and graphically presents the various edible trees, plants, and herbs that can be found in different gardens, including when they will be in bloom. In addition, at the end of the report is a photo guide to the plants previously listed, which is enormously helpful for novice gardeners and botanists.
The 2011 University of Virginia Sustainability Assessment details the initiatives that have been completed since 2006, and relevant items include: expand procurement of local and organic foods in all dining facilities, host special events and establish specific dining outlets to promote local organic foods, explore opportunities for establishing a University demonstration garden/farm. While the university has certainly made good strides toward these objectives, it seems that an additional possible action could be to make students aware of the abundant edible foods present on grounds. Slow Food at UVA recently held a workshop that taught students how to make dandelion wine, and it seems that similar (perhaps more applicable) workshops regarding the cultivation and treatment of edible plants and trees would be educational, helpful, and interesting.
http://www.virginia.edu/uvatours/gardens/gardensHistory.html
http://tjdemogarden.wordpress.com/about/
http://www.officearchitect.virginia.edu/pdfs/SustainabilityAssessment-2011.pdf
http://www.vahistorical.org/collections-and-resources/garden-club-virginia/colleges-and-universities/university-virginia
Reese, Melissa. Edible Lawn: An Inventory of the Edible Landscape at the University of Virginia in the Lawn Pavilion Gardens. Fall 2008.
Post by Emma Troller, Second-Year, Urban and Environmental Planning