My name is Ellen Choi and I am a fourth year studying Foreign Affairs and Economics. This blog post will contribute to the Edible Trees and Plants team blog by describing the history and abundance of edibles in the Pavilion Gardens.
The gardens at UVA have traditionally been associated with contemplative thinking and scholarly life. Thomas Jefferson "arranged [the University] around an open square of grass and trees", demonstrating how central (both literally and figuratively) gardens were in relation to the character of the school. In regards to the gardens, they were restored in the 1950s. Mary Hughes, the University landscape architect, stated that the pavilion gardens were "an extension of [the pavilions and hotels]", and as a result, it connects the pavilions to be "completely integral to the experience of the house". Faculty residents used to have not only the garden immediately outside their pavilion, but they were also given five acres to raise vegetables and ten acres of pastures. With this no longer being the case, the Garden Club has done a fantastic job maintaining these beautiful gardens and opening them up to the public.
The West Pavilion Gardens
Pavilion Garden I is reflective of Jefferson's period, with it formerly being bordered by rows of fruits and trees along with rectilinear beds once used for vegetable and herbs. Today, It hold shrubs and trees like the sweetgum tree whose dried up sap makes a fragrant, but bitter chewing gum. The sap is also used to add flavor to smoking tobacco. Pavilion Garden V has the more edible and useful "Albemarle Pippin" Apple Trees, one of Jefferson's favorite apples. The 'Albemarle Pippin' has fruit whose flesh is greenish-white and is juicy and crisp, with a fine aroma. Garden V also contains the purple flowering Hostas, which has nutritional value. Every part of the plant is edible and with its asparagus-like taste, you could add it to flavor your salads.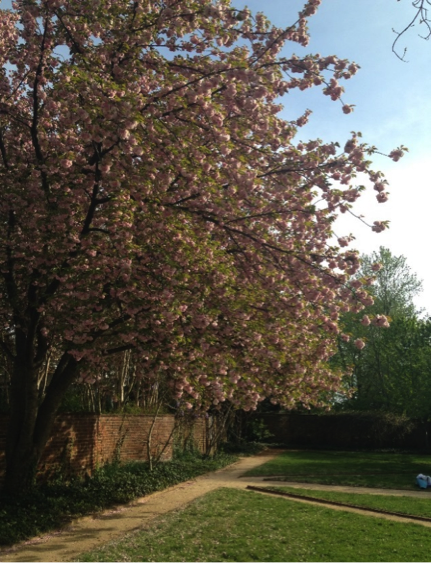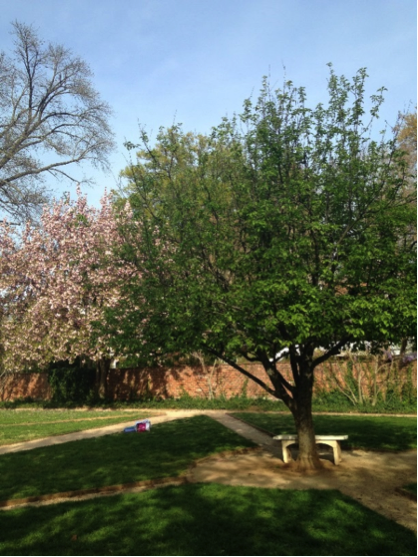 What Pavilion Garden IX lacks in size, it makes up for it in edible abundance. Although one of the smallest gardens, Garden IX has "Albemarle Pippin" apple trees like Garden V and is lined with pomegranate shrubs. A large fig tree looks over the garden from the corner and annually provides deliciously sweet figs during the fall, while pomegranate bushes lines the serpentine walls.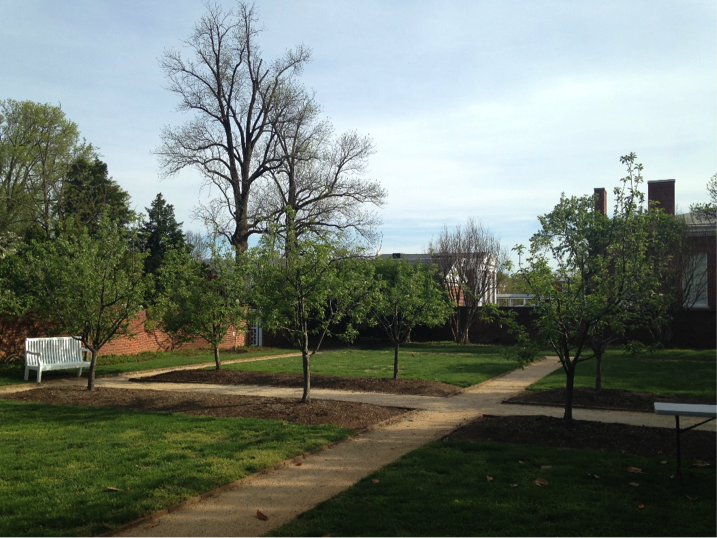 The East Pavilion Gardens
A large pecan tree with seeds that have a rich, buttery flavor was planted in Pavilion Garden II in the middle of the 20th century. In the hotel garden, four types of plums grow with several crabapple trees lining the walls. Crabapples are more known for their beautiful, pink flowers, but they do produce a fruit that is about 2 inches thick. While Gardens IV and VI contain mostly decorative plants, the Rose of Sharon in Garden VIII Has edible leaves that taste like lettuce and a mild tasting, edible flower that may even lower blood pressure. This fruitful garden also contains an orchard with apples, plums, and walnuts set the style in turf parterres.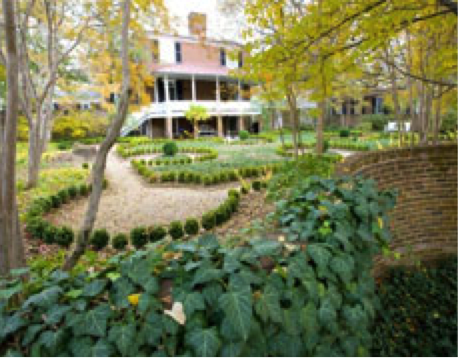 Pavilion X has a unique tree, the Kentucky Coffee, which have seeds that you can roast, grind and brew like coffee. These seeds can also be eaten like nuts and have less caffeine than regular coffee beans. You can enjoy these trees by sitting on the iron benches that are places around these beautiful trees with in the eighteenth-century styled gardens.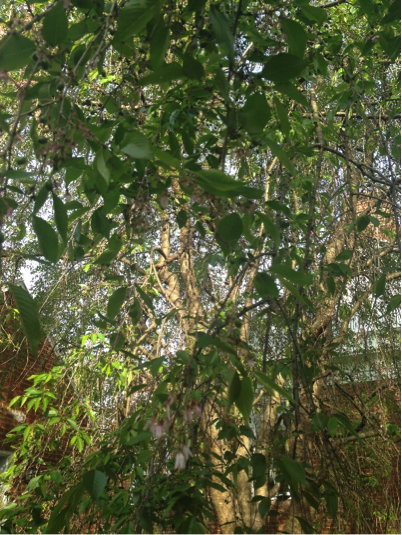 There are several other places on grounds where you can find cultivated edible plants. Fig trees located near Gilmer Hall produce the sweetest figs in the fall. With personal experience, I can tell you that they are delicious and very accessible.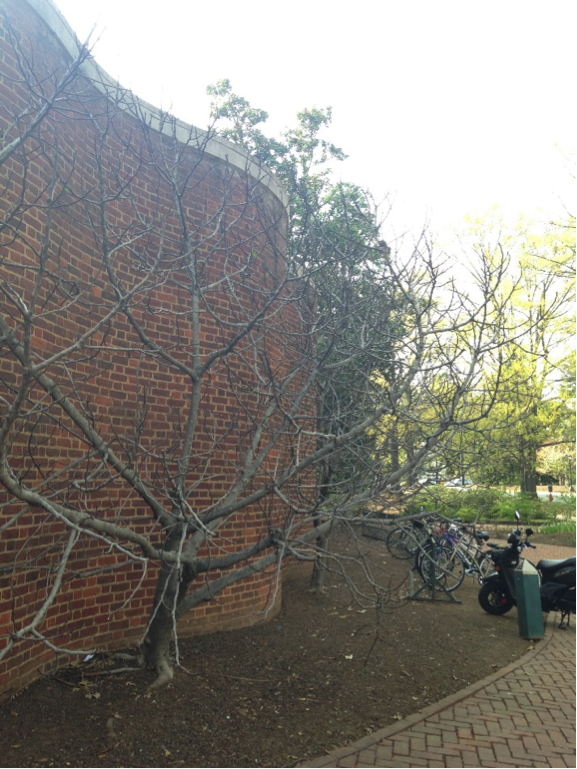 Sources
http://www.eattheweeds.com/sweet-gum-tree/
http://www.monticello.org/site/house-and-gardens/in-bloom/albemarle-pippin-apple
http://www.hostasdirect.com/blog/hostas-are-edible/
http://www.ext.colostate.edu/pubs/garden/07424.html
http://eattheplanet.org/archives/5
http://www.virginia.edu/uvatours/gardens/gardensExplore.html
http://www.c-ville.com/secret-gardens-uvas-pavilion-gardens-harbor-history/#.U11z2PldUwE
Post by Ellen Choi, Fourth-Year, Foreign Affairs and Economics