"I have often thought that if heaven had given me a choice of my position and calling, it would have been on a rich spot of earth … No occupation is so delightful to me as the culture of the earth, and no culture comparable to that of the garden." – Thomas Jefferson, 1811 
My name is Cristina Ramirez and I am a third year Environmental Thought and Practice major. For this blog post of the Edible Trees and Plants group I will be talking about the current established gardens on Grounds and their importance to student and community life.
All of these gardens fulfill Jefferson's intentions of having a botanical garden added to the Academical Village. He understood what spending time outdoors and with nature could do for one's mental and physical health, as well as the importance of having a proper scientific understanding of plants. His visions have taken form in a variety of ways on Grounds, from being primarily ornamental and a place for relaxation to areas where students can grow their own food and study plant life. Here are just a few of the gardens that you can find in the UVa community:
UVa Community Garden
The UVa Community Garden has a mission to provide a space for the University and Charlottesville communities to learn more about organic farming. Not only is this a important education resource for students and faculty, but it is an opportunity for connections to be made between the community and school. They have successfully grown Asparagus, Rainbow Chard, Arugula, Herbs (Rosemary, Thyme, Basil, Flat-leaf Parsley), Bulls Blood Beets, Golden Beets, China Rose Winter Radish, Florence Fennel, Carrots, Peruvian Zinnias, French-Stripe Marigolds, Sunflowers, and Strawberries.
Hereford Heritage Gardens
The Hereford Heritage Garden is student run and allows them to learn about where their food comes from. Among their plants they have grown tomatoes, beans, cucumbers, lettuces, cabbage, kale, turnips, and herbs.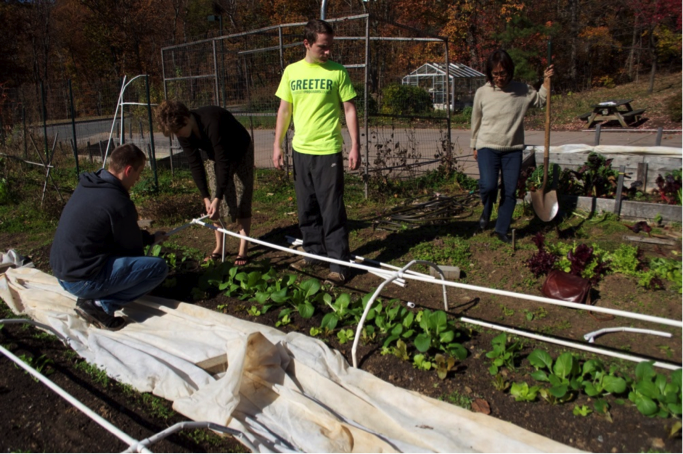 The gardens at UVa are not just on Grounds. They extend to the surrounding Charlottesville area and showcase the other ways gardens can contribute to one's daily life.
Blandy Experimental Farm
These 700 acres in the Shenandoah Valley are used as a field station and base for experimental projects and programs. Research is done by UVa faculty and students on plant pollination, plant-animal interactions, and deforestation caused by the gypsy moth. Education and Public Programs offer workshops, lectures, and tours to learn about environmental issues and the history of gardening. Finally, the State Arboretum of Virginia holds over 5000 living trees, and herb garden, and the Virginia Native Plant Trail. Many of their public events run from March to May, you can find out more about what they offer on their website: http://blandy.virginia.edu/public-programs.
Morven Farm
Donated to the University in 2001, it has since been used for academic and educational purposes. The 7,379 acre piece of land consists of 11 farms and gardens. In 1930 landscape architect Annette Hoyt Flanders restored the gardens. The gardens included extensive planning of various types of shrubs and flowers of all colors. Today the area has public outreach programs where community members can come visit the formal gardens and observe the farms. Students and faculty participate in the Morven Kitchen Garden during the year and can attend the Morven Summer Institute in the summer: http://www.uvafoundation.com/morven/morven-programs/.
Sources used:
http://uvagarden.wordpress.com/
http://www.hereford.virginia.edu/minifarm
http://herefordgardens.wordpress.com/
http://www.virginia.edu/uvatours/gardens/gardensOther.html
Post by Cristina Ramirez, Third-Year, Environmental Thought and Practice