The nocturnal BioGrounds team now has a total of five cameras. On March 7th before spring break, team members set up 3 of the 5 cameras.
The goal of this project is to understand and observe animal activities at night therefore location is crucial when setting up the motion detectors. Our team members decided to place the cameras at 3 distinct locations on grounds: dumpsters behind Lambeth, the Observatory Hill and the garden behind the lawn. Dumpsters behind Lambeth provide continuous food supply and shelter to stray animals e.g. cats, raccoons and skunks. These creatures will frequently visit dumpster sites to search for food. In cold, unpleasant weather, animals may also temporarily hide in dumpsters to stay warm. Animals prefer places where there are few human activities, therefore, our team members placed the second camera at the Observatory Hill located far away from all dorms and academic buildings. Observatory hill is also surrounded by trees and bushes thus serve as good hide out or homes for creatures where they can feel more comfortable. The third camera is placed in the gardens behind the lawn. These gardens are frequently visited by birds and squirrels and may also attract raccoons from time to time since it is located away from the roads.
The cameras are strapped to trees or lampposts at around 1.5 to 1.8 meters above ground. This gives the camera a wider view and increases the probability of capturing more animal movements. When setting up the camera, team members have to make sure not to face the lenses directly east or west. Direct sunlight entering the lenses can burn and destroy the camera. Once the camera is secured, the switch is turned to manual. When motion is detected, the camera will automatically take three pictures of the moving object and save it to internal storage.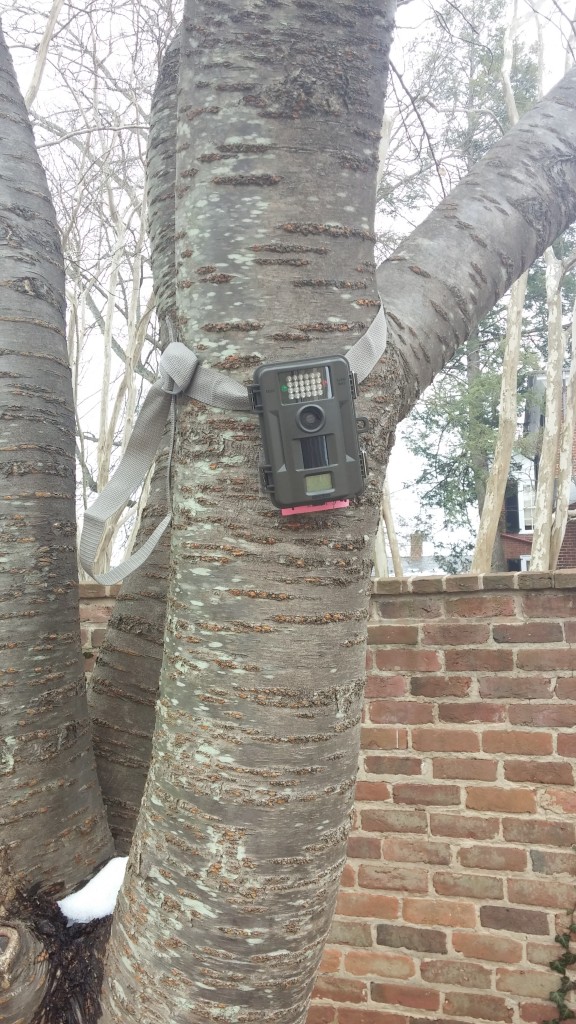 Post by Linda Chen, Third-Year, Environmental Sciences